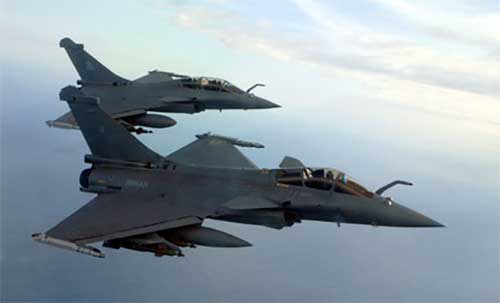 India and France aim to finalise the deal for 36 Dassault Rafale fighters for the Indian Air Force (IAF) by the end of May, according to defence industry sources.
Indian prime minister Narendra Modi is believed to have insisted on this deadline with his French counterpart Francois Hollande in Paris, soon after announcing the fighters' procurement on 10 April.
Once inked, the IAF will be the first customer, after the French Air Force, to acquire Rafales. Egypt has also agreed to buy 24 Rafales.
Meanwhile, a delegation comprising senior French government officials and top Dassault executives is expected in New Delhi over the next few days to begin negotiating the fighter contract, which is estimated at around USD5-6 billion. French defence minister Jean-Yves Le Drian is likely to be part of this delegation, but no confirmation of his inclusion was possible.
Industry sources familiar with the ongoing talks between the two governments told IHS Jane's that Dassault is reported to have agreed to more than double its annual Rafale building capacity from 11 to 24 aircraft. The company had slowed down Rafale production rate to around 11 platforms per year as no new orders were forthcoming.
The French government is also believed to have persuaded its air force to reduce its Rafale induction until the IAF contract is fulfilled.