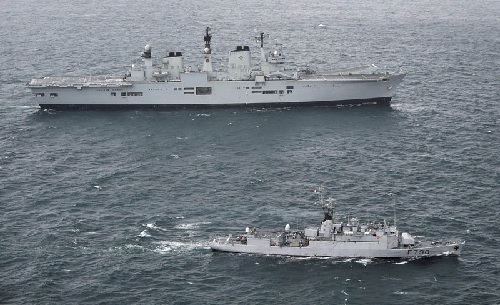 Indian Defense Ministry announced on Thursday that Indian Naval Force has started 10-day-long joint military exercises with the French fleet near the Indian state of Goa. Four French Naval ships including Aircraft Carrier Charles de Gaulle and its entourage including Rafel fighter jets have arrived in Goa today, according to a statement by the ministry.
The French fleet was present in the Arab Gulf to support the campaign against the ISIS which the international coaliation has launched.
Indian authorities informed that the fourteenth joint India France Naval exercises dubbed (Varuna) are aimed at ensuring peace and stability in the Indian Ocean and to exchange experiences in sectors of communication, search and rescue operations. The sea exercises being held in the international waters, India's Aircraft Carrier INS Viraat and other Indian warships and attack submarines are participating.
It is to be noted that India's defence ties with France became strong especially since the signing of a strategic parnership deal in 1998 and both the countries have so far held 13 joint naval exercises, the last being in 2012 in the Mediterranean Sea off Toulon.
Few days back Indian Prime MInister Narendra Modi during his official visit to France announced that his country has fianalized a deal to buy 36 Rafel jets from France after three years of negotiations adding that both the sides will give final touch to the deal after negotiations.