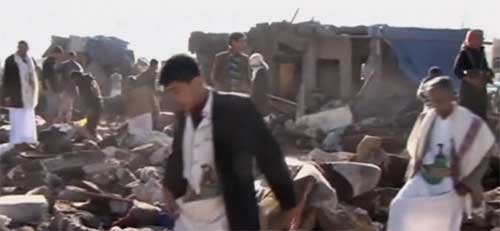 The head of a local committee tasked with assessing the needs of humanitarian relief for Yemen said that around 1,000 people are registered to have been killed by Houthi militias or their allies.
These deaths have been recorded across Aden, Taiz and Dhale', Izzudine Al-Asbahi said. In Taiz alone, there are over 100, while in Aden over 15 people are killed every day at the hands of Houthi snipers or through direct assault, Al-Asbahi, also minister of human rights affairs, said in a press briefing at the Yemeni Embassy in Riyadh.
The committee's estimates have been gathered either through its own sources, who operate on the ground inside Yemen, or through international humanitarian agencies working there.
On the injuries' count, he said estimates reveal over 5,000, including women, children and the elderly. He expected these numbers to double as the militias look to continue their manipulation of civilian homes to use as human shields.
Some nine million, at least, are in need of immediate healthcare, while he said that UN figures mention that 12 million are in need of immediate humanitarian relief.
The current conflict has led to the utter destruction of 365,000 homes as hundreds of thousands have been partly destroyed. This destruction has also extended to many hospitals, which have been used as ammo storage facilities, he added.
Those displaced inside the country have climbed from 150,000 to 250,000 now, while another 1,000, some of whom are wounded, have crossed the Red Sea into Djibouti.