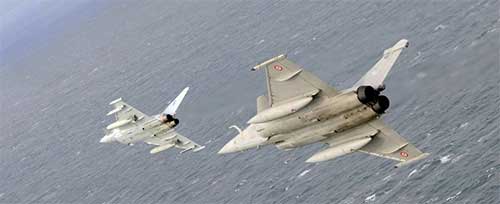 French Defence Minister Jean-Yves Le Drian will hold talks with his Indian counterpart Manohar Parrikar here tomorrow to "launch negotiations" for the 36 Rafale fighter jets that India has decided to buy from France.
Drian will arrive here later tonight after his visit to the United Arab Emirates, Qatar and Saudi Arabia.
The French Minister will meet Parrikar on Wednesday during which he will "pursue" discussions on matters that were taken up during Prime Minister Narendra Modi's visit to France last month, a French Embassy statement said.
This includes negotiations for the acquisition of 36 Rafale fighter aircraft.
"The aim is to launch negotiations pursuant to the Indo-French Joint Statement of April 10," it said.
This trip of Drian follows the 14th edition of the "Varuna" exercise between Indian and French Navies, conducted from April 28 to May 2, off India's western coast with the carrier battle groups of the two countries.
A "powerful symbol" of the strategic partnership between France and India, this exercise enabled the navies of both countries to deepen their mutual knowledge and strengthen their close ties of friendship, the statement said.