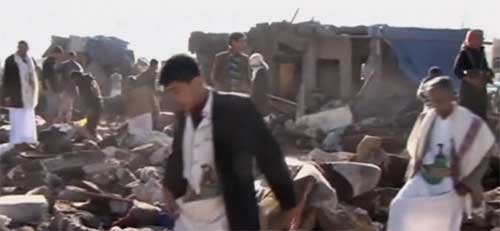 Over 31 people were killed on Wednesday and dozens wounded in five simultaneous bombings claimed by the Islamic State group at Shiite mosques and offices in the Yemeni capital, medics and witnesses said.
IS, a Sunni Muslim radical group, said the attacks were in "revenge" against the Shiite Huthis, who have overrun Sanaa and much of the Sunni majority country and whom it considers to be heretics.
The blasts come almost three months after IS carried out multiple bombings against Shiite mosques killing 142 people.
Two car bombs targeted mosques, while a third hit the house of the head of the Huthi rebels' politburo, Saleh al-Sammad, witnesses and security officials said.
The IS statement said the nearby politburo office was the target.
One of the car bombs targeted the house of Huthi leader Taha al-Mutawakel and the adjacent Al-Hashush mosque, which was targeted in the March bombings claimed by IS.
The other car bomb hit the Al-Quba Al-Khadra mosque in the central Hayel district, which is frequented by Huthi supporters.