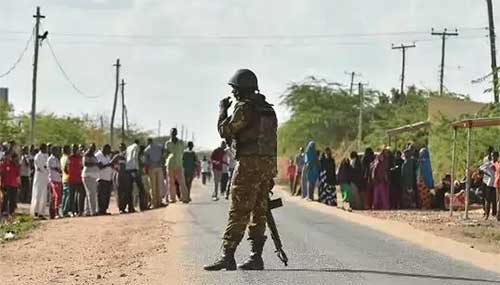 Al-Shabaab militants launched a major suicide attack on Sunday against a military intelligence base in Somalia's capital Mogadishu, setting off a car bomb before storming inside, security officials said.
The interior ministry said the three attackers, one of them a suicide bomber, were all killed in the raid, and that the Somali security forces who fought them suffered no casualties.
A spokesperson for the al-Qaeda-affiliated militants confirmed they carried out the attack, Somali media reports said.
"The attack was successfully thwarted by our forces. None of our buildings or bases were entered," the internationally-backed government's National Intelligence and Security Agency [NISA] said in a statement.
Somali officials displayed three corpses after the attack, which came at the start of Islam's holy fasting month of Ramadan – a period when the Shabaab, who are fighting to topple the Mogadishu government, have in the past intensified attacks.
"The security forces have foiled an attempted attack by the desperate terrorists," interior ministry spokesperson Mohamed Yusuf told reporters.
"One of them detonated himself and two others were shot dead. They were trying to storm the premises but they have been taken out before they reached their objective. There was no casualty on our side," he added.
The Shabaab also conducted fresh attacks in neighbouring Kenya, with the militants gunning down a government administrator in the restive northeastern county of Wajir late on Saturday, and ambushing a military convoy near Lamu on Sunday, according to police.