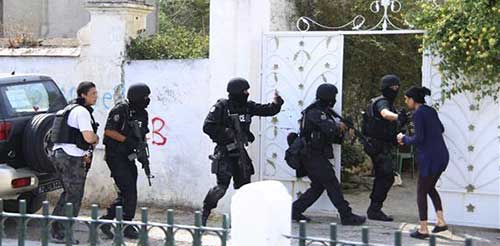 Tunisian authorities have arrested eight people suspected of "direct" involvement in the attack on a holiday resort that killed 38 foreign tourists.
While 12 people were initially detained, four were subsequently released.
The eight – seven men and a woman – are "directly" connected to the June 26 attack in the coastal resort city of Sousse, said Kamal Jendoubi, the minister of constitutional bodies and civil society.
Parliamentary Relations Minister Lazhar Akremi said the detainees had been trained by hardline jihadists in neighbouring Libya.
On Friday, a gunman went on a rampage at a hotel in Sousse and opened fire on tourists on a crowded beach, in Tunisia's worst-ever terrorist attack.
Thirty of the 38 victims were Britons.
The Islamic State (ISIS) terrorist group, which is active in Syria and Iraq, claimed responsibility for the attack.
The authorities identified the attacker as Seifeddin Rezgui, a 24-year-old Tunisian man, who was killed by police.
The Interior Ministry said it was hunting for what it described as a "dangerous terrorist" allegedly involved in the Sousse attack and a previous assault on the national museum in the capital, Tunis.