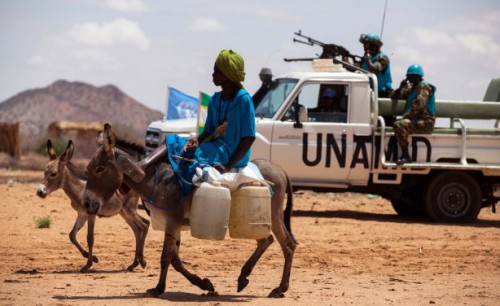 Bangui was paralyzed all day Monday through barricades erected in its main roads, in a climate of extreme tension after a weekend of deadly violence accompanied by looting.
Three protesters were killed and seven injured in mid-day by peacekeepers firing of the United Nations Mission in CAR (minusca), responsible for protecting the surroundings of the presidential palace, told AFP a hospital source , on condition of anonymity.
The demonstrators were directed to the Presidency calling for the resignation of the transitional president, Catherine Samba Panza, currently in New York to attend the United Nations General Assembly.
But minusca says that peacekeepers defending the presidential palace did not "fired" against demonstrators, in a statement sent to AFP in Libreville.
"The heads of the peacekeepers minusca deny they opened fire on the people," the brief statement. "That said the minusca remains concerned about such allegations and will conduct their audit."
After the dispersal of the demonstration, of undetermined origin shots were heard in another district of the capital and a teenager was killed by a "stray bullet", according to the hospital source.
In the absence of official figures pretend transitional government overwhelmed by the chaotic situation, estimates of the death toll since Saturday are twenty to thirty dead and a hundred wounded, according to hospital and humanitarian sources.
Doctors Without Borders (MSF) speaks especially of at least 21 killed: "In 24 hours, more than 100 injured and 21 deaths were recorded, but the final death toll could be higher," said the NGO. UNICEF reports of "thirty killed" in a statement.