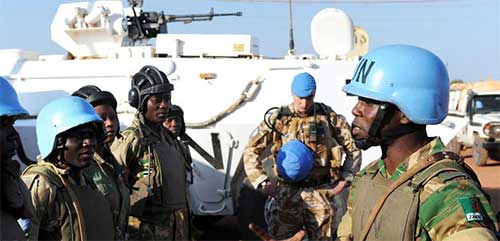 Led by the US, fifty countries have promised Monday to provide additional 40,000 peacekeepers, when the UN peacekeeping missions are overstretched and vulnerable.
US President Barack Obama had convened on the margins of the UN General Assembly in New York summit on ways to strengthen the 16 UN missions around the world, which already serve 125,000 soldiers, police and civilians came from 124 countries.
This network, said Obama, "no longer able to meet the growing demand" due to the proliferation of conflicts in Africa (Mali, South Sudan, Central African Republic, DR Congo).
The peacekeepers are also vulnerable to attacks and bombings: on the eve of the summit, a South African peacekeeper was killed in the Sudanese province of Darfur.
Mission in Mali (Minusma) is one of the deadliest UN history, with 60 deaths since its deployment.
"We are here today to strengthen and reform the peacekeeping for our collective security depends on it," Obama said.
The United States is the largest donor of peacekeeping, with 28% of the annual $ 8.3 billion budget, but they are reluctant to contribute troops. Obama announced a doubling of the number of American officers (currently 78) serving under the UN flag.
"More countries should contribute and provide more forces," he stressed.
China has responded with 8,000 police, and Colombia with 5,000 peacekeepers, while it was previously absent from this sector. Europe was more cautious.
The United Kingdom will send several hundred soldiers in Somalia and southern Sudan. The Netherlands has extended by one year their participation in Minusma and increased funding.
In addition to the troops medical units or engineering, mine-clearance experts, helicopters, including some missions sorely lacking, or drones.