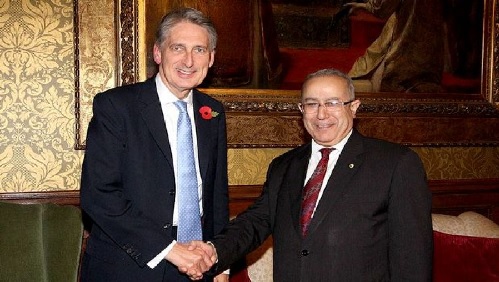 Minister of State, Minister of Foreign Affairs and International Cooperation Ramtane Lamamra, on working visit to London held talks Tuesday with Secretary of State for Foreign and Commonwealth Affairs Philip Hammond.
The meeting, held on the Foreign Office headquarters focussed on the regional and international issues of common interest, particularly the development of the situation in Libya, peace process in Mali, the Syrian crisis and the migratory issue as well as the international terrorism.
The discussions on the Libyan crisis resulted in convergence of views for a consensual political solution, based on the rapid formation of a national unity government, in application of the agreement presented to the Libyan parties by UN Special Representative.
Concerning Mali, Lamamra expressed optimism about the application of the Malian Peace and Reconciliation Accord, stressing the need for reinforcing the role and the capacity of the UN Mali Mission in the stabilization of this country.
Broaching Syria, the two ministers discussed the international diplomatic efforts exerted in a bid to reach a political solution to the
conflict, notably the last International conference on Syria in Vienna.
The two ministers have also exchanged views on the migratory problem and some recommended solutions, few days before the holding of the Summit on 11- 12 November in Valetta (Malta).
Moreover, they discussed the prospects of deepening and diversifying the Algerian-British cooperation, while hailing the positive progress recorded in the past years.