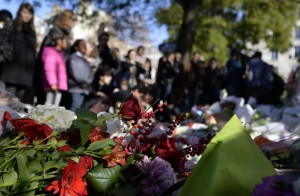 The events of Thursday morning and evening could not be starker in difference. We saw, in the early part of the day, a rare and hopeful example of national consensus as the country's lawmakers came together in Parliament. Hours later Lebanon was rocked by a massacre.
Yet, as leaders look forward after this crime, both moments could have similar outcomes. The bombings have brought together every shade of society, as the country's people and politicians united in condemnation of the attackers.
The tragedy that took place proves that, regardless of all the measures that have been taken, security remains vulnerable, and catastrophes such as these are possible as a result. The Army and security forces are severely overstretched in their battle to save Lebanese lives and keep terror at bay. Their hard work can be seen in the many terrorist networks and cells uncovered and destroyed in recent months. But this attack shows that they cannot do this alone. Our politicians have been creating and fighting many challenges in recent weeks, but now this deadly terrorist challenge supersedes all others. To help our security forces, and create an environment in which this threat can be overcome, all institutions of the government must be functioning fully, without hindrance.
Over the past two days we have seen in our leaders a genuine desire to see this happen. And as they came together Thursday morning to pass vital bills, lawmakers must now stay together to overcome this very different, but far more difficult test.
Now is the time to prove that statements of solidarity and good intentions are not just politicking. Thursday's attack has united Lebanon's people. May their leaders do the same and steer the country to safety.