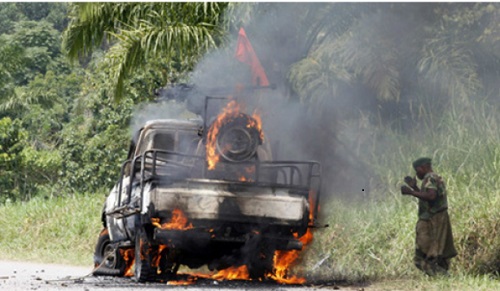 Violent battles have erupted between armed groups in Yambio, the capital city of South Sudan's Western Equatoria state, local Eye Radio reported Tuesday.
The battles have broken out between government troops and a local armed group known as "arrow boys" which is allied to South Sudan's major rebel group led by former vice-president Riek Machar.
No casualties have been reported yet.
In August, South Sudan's warring parties signed a peace deal under the patronage of the Inter-Governmental Authority for Development in Africa, but the two sides have repeatedly accused each other of violating the agreement.
South Sudan was plunged into violence in December 2013, when fighting erupted between troops loyal to President Salva Kiir and defectors led by his former deputy Machar.
The conflict soon turned into an all-out war, with the violence taking on an ethnic dimension, pitting president Dinka's tribe against Machar's Nuer ethnic group.
The clashes have killed thousands of South Sudanese and forced around 1.9 million individuals to flee their homes.