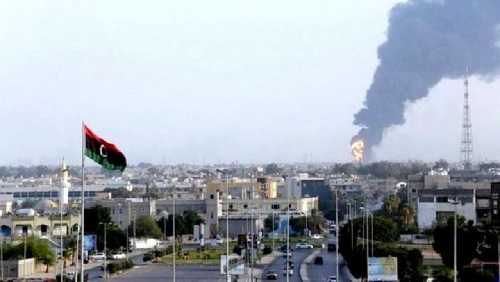 Oil tanks were on fire Thursday in the north of Libya after a new attack by jihadists to gain control of oil facilities.
Islamic State group fighters (EI) attacked at dawn tanks in Ras Lanuf, the heart of "oil Crescent" of Libya, about 650 km east of Tripoli, announced the national oil company (NOC) and the media.
"Crude Tanks filled caught fire (…) Several electrical towers and power lines that supply residential and industrial area" collapsed, said NOC, based in Tripoli.
"The situation in Ras Lanuf is catastrophic for the environment," she added.
This new attack comes two days after the announcement of the formation of a national unity government, advanced foreseen in the UN plan for the country out of the chaos in which it is immersed since the fall of Muammar Gaddafi 2011.
The international community urges both rival camps to agree to better fight against the EI, which controls the city of Sirte and its surroundings. It has approximately 3,000 fighters in the country, according to Paris.
The UN envoy Martin Kobler, has again insisted Thursday on "urgency" to move this political process because, "once again, a terrorist attack targeted the resources of Libya."
Ras Lanuf targeting, "Daech (Arabic acronym EI) destroys the possibility of economic revival of Libya", has also accused Peter Millet, Ambassador of United Kingdom in Libya.
Mohamad al-Manfi, spokesman of AcG based in the east of the country, told AFP that the IU had "fired rockets against oil tanks in the Harouge company." Two of them "are on fire," he said.
No claim of the attack was made immediately.
Tanks Harouge (former Veba Oil) is located 9 km from the port of Ras Lanuf, the inland. Three main pipelines supply the 13 reservoirs with a capacity of 6.5 million barrels, according to the company website.