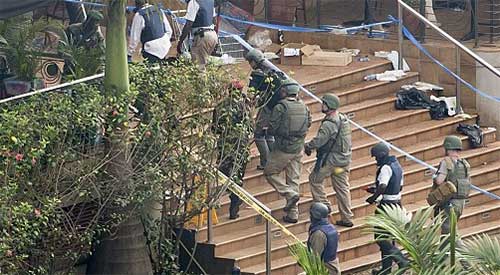 Gunmen killed three gendarmes in an overnight ambush near a town in central Mali, the defence ministry said on Wednesday (Thursday NZ Time), confirming the latest in a growing wave of attacks that risk spilling over into Mali's West African neighbours.
However, UN and French officials vigorously denied a claim by Islamist militant group Ansar Dine to have conducted two other lethal attacks on their convoys in the northern Kidal region since January 15.
The identities of the assailants in the central Mali attack were not immediately known.
However a Malian army source, who asked not to be named, said that fighters from the Massina Liberation Front (FLM), another militant group based in the area, were believed to have been behind the attack near the town of Mopti.
He said three or four gendarmes were killed in the raid.
Mali's army and a 10,000-strong UN peacekeeping force (MINUSMA) are frequently targeted in attack by militants. Strikes on France's better-equipped regional counter-terror force Barkhane are less frequent.
The attack near the town of Mopti comes as an Islamist insurgency intensifies in Mali and spreads across West Africa into areas previously considered outside the sphere of operations of militants.
Multiple jihadist groups are based in Mali's vast and lawless desert north, with some degree of cooperation between them. During a short-lived alliance with Tuareg rebels, they briefly seized northern cities in 2012 but were scattered by French forces a year later.
In a sign of their resurgence, 30 people were killed and dozens of others were wounded last week in an attack on a hotel and restaurant in Burkina Faso's capital Ouagadougou, carried out by Al Qaeda in the Islamic Maghreb.
Both AQIM and FLM claimed responsibility for a similar attack on a luxury hotel in the capital Bamako on November 20 which killed 20 people.