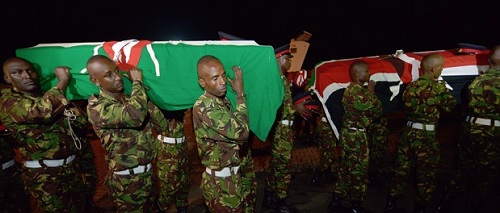 Nairobi – The bodies of Kenyan soldiers killed when Al-Qaeda-linked militants overran their base in Somalia were flown home late on Monday draped in the national flag as a rescue operation was underway for survivors.
Defence Minister Raychelle Omamo called the dead "VIPs, the fallen heroes" as four coffins arrived by plane in the capital Nairobi. They were carried by an honour guard of their comrades.
The army has set up helplines for families of those killed, although it has yet to name them and no official toll has been released.
"This is a very sombre moment for the Kenya Defence Forces – and I think for the country at large," Omamo said, calling for "patience" as efforts to rescue remaining troops continued.
"Search rescue and recovery operations are ongoing, and consequently we except to receive more of our soldiers in the coming days," she added, without giving further details.
The African Union base in southwest Somalia was attacked by Shebab fighters early on Friday morning, the latest incident of an AU Mission in Somalia (AMISOM) base being overrun by the militants.
More than a dozen survivors, some wounded, were flown back on Sunday and Monday.
Kenya has so far declined to say how many of its soldiers were killed, wounded or missing but on Sunday a Shebab statement said that more than 100 Kenyan soldiers were killed and others captured.