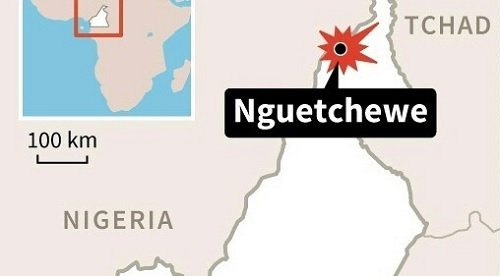 At least six civilians were killed and wounded thirty Wednesday morning in a double suicide bombing in Nguetchewe, village of the far north of Cameroon, which borders Nigeria regularly attacked by the Islamist Boko Haram, according to a security source.
"Six civilians were killed, two more suicide bombers who blew themselves up" during a mourning vigil Nguetchewe, said a security source told AFP on site, citing "30-50 injured," whose more serious were evacuated to the regional hospital in Maroua.
"The villagers were gathered at a place of mourning when two suicide bombers have infiltrated as if they were part of the family," said the two girls source.Les "blew themselves up at 6:20 in the morning, when people had spent the night there were about to take their meals, "said the source.
According to an official of the Cameroonian police based in the region, several children are among the dead, including a boy aged six years and a 15 year old. At least one member of the local village vigilance committee (created in response to the increasing number of Islamist attacks in the north, note) was also killed.
On 18 January, four faithful had already been killed in a suicide attack at a mosque in Nguetchewe.
This is the fifth suicide attack in the Far East since the beginning of 2016.
Since Nigerian Islamists began attacking in Cameroon in 2013, nearly 1,200 people were killed in attacks and bombings by jihadists in the Far North region, according to the Cameroonian government.