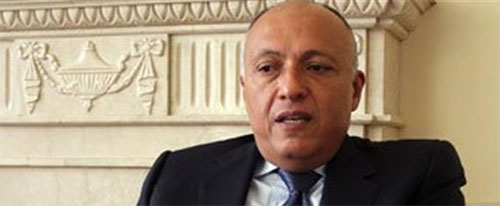 Libya needs to form a unified government before the United States and European allies opt for military action against thousands of Daesh (called IS) fighters in the chaotic country of North Africa, Foreign Minister of Egypt said on Tuesday.
"It must be a Libyan-led process," said Egyptian Foreign Minister Sameh Shoukry Reuters in an interview, acknowledging that efforts to forge a single government rivals in neighboring Libya were "difficult".
responsible for the fight against terrorism in the United States have been alarmed by the growth of a company affiliated Daesh in Libya, where he amassed thousands of fighters seized a coastal strip that includes the city of Sirte and attacked oil infrastructure.
The Arab country plunged into chaos after the uprising against longtime leader Muammar Gaddafi, whose fall was helped by an air campaign led by NATO in 2011.
Speaking to the US Congress Tuesday, Director of National Intelligence James Clapper said Libya subsidiary Daesh is "one of the most developed branches outside of Syria and Iraq." The affiliation, he said, "is well positioned to expand the territory under its control in 2016".
US officials have discussed increasing air strikes in Libya or the deployment of US special operations forces, but they say any military campaign is still weeks or months.
Shoukry suggested that international intervention without the approval Libyan could backfire. "Experience in the past … would have been reached by the Libyan people with a little anxiety, the result of the last intervention," he said, referring to the turmoil that has followed in the wake of aid the West to topple Gaddafi.
"I think we all recognize that this is an issue that will be addressed primarily by the Libyans," he said.
Despite an agreement signed in December, Libya's rival governments have failed to finalize arrangements for a national consensus government.