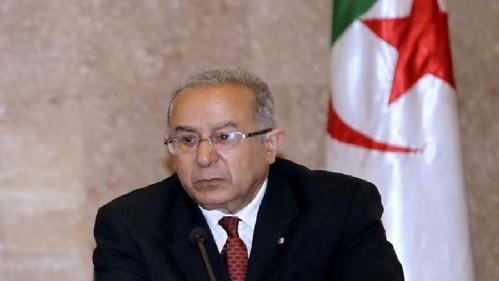 Algeria has taken "all necessary measures" to strengthen its border security and contribute to the security of the entire region, said Wednesday in Algiers Minister of State, Minister of Foreign Affairs and International Cooperation Ramtane Lamamra.
"Algeria has taken all necessary measures to strengthen its border security," Lamamra told the press on the sidelines of the festivities marking the double anniversary of the creation of the General Union of Algerian Workers (UGTA) and the Nationalization of Hydrocarbons.
"The situation is under control. We are making every effort to ensure the security of our country and of our neighbours. But we must remain vigilant," he said.
The Algerian diplomacy "is carrying out a complementary work through consultation with neighbouring countries and other influential parties in the region with a view to strengthen security at the country's borders and ensuring the security of the countries of the region," he added.
Lamamra dubbed the forthcoming visit of United National Secretary General Ban Ki-Moon to Algeria and countries of the region, scheduled for March, "important."
The UN chief's trip, although it is in relation with the Western Sahara conflict, will include the participation in a conference on the protection of women against violence on the occasion of 8 March, the International Women's Day, he added.
Lamamra also reiterated Algeria's hope for the formation of a national unity government in Libya with a view to greatly contributing to the building of the state institutions and the fight against terrorism.