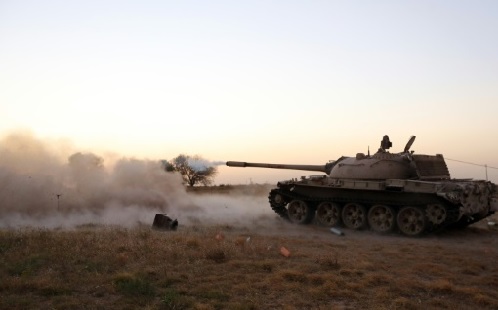 Benghazi – Fighters loyal to Libya's internationally recognised government said on Tuesday they were close to seizing the centre of second city Benghazi after gains against Islamist militias including the Islamic State group (ISIS).
"We entered most of the sectors controlled by terrorist groups in Lithi" in central Benghazi, a military source told AFP.
The press office of Libya's General Command, which supports the recognised administration, said it would announce the liberation of Lithi, a bastion of Islamist militias including ISIS, "imminently".
Libya has had rival administrations since the summer of 2014 when the recognised government fled Tripoli after a militia alliance including Islamists overran the capital.
Fighting has flared periodically in Benghazi as security forces try to wrest neighbourhoods from armed groups including IS and Ansar al-Sharia, which is close to al-Qaeda.
At least 19 pro-government troops were killed over the weekend in clashes that saw loyalists seize Al-Marayseh port in western Benghazi and Al-Hawari hospital in the south.
Medical sources in Benghazi said on Tuesday that more than 20 loyalist fighters had died in the operation to retake the city.