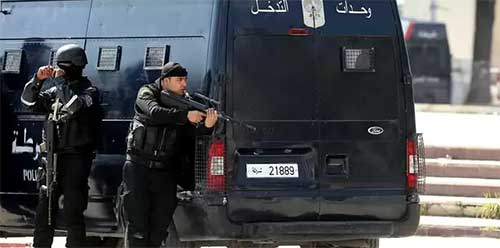 Three terrorists and a soldier were killed Wednesday in new clashes in Ben Guerdane (East), target Monday of jihadist attacks unprecedented making 55 dead.
"Two terrorists were killed (….) By police and military units", said initially the Ministries of Defence and Tunisian Interior said in a statement on 9 March. The two men were followed after "broke earlier on Wednesday on a construction site (…) where they seized food from the workers." One soldier also killed, and one wounded civilian.
Minutes later, a new press announced the death of another terrorist in the region of El-Amria near Ben Guerdane shot "after being barricaded in a house in the region."
These new clashes thus bring to 46 the number of jihadists killed by Tunisian forces since the bloody attacks occurred Monday at Ben Guerdane near the Libyan border. In the night from Tuesday to Wednesday, seven terrorists were killed during security operations around the city.
Safe operations are still ongoing in the area of ​​Ben Guerdane, near the Libyan border, more than 48 hours after the spectacular jihadist attacks against security facilities in the city.