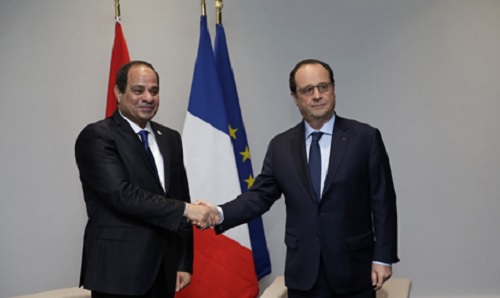 A high-level 12-member delegation from France arrived in Cairo on Tuesday to prepare for French President Francois Hollande's upcoming visit to Egypt.
Hollande is expected to visit Cairo on 18 April, a trip that was announced in December 2015.
The French delegation will stay in Egypt for four days.
The delegation, which is headed by Elizabeth Dobell from the French president's office, is expected to meet a number of Egyptian officials.
Hollande previously visited Egypt in August 2015 to attend the inauguration of the new Suez Canal.
Egypt's President Abdel-Fattah El-Sisi also met with Hollande in November 2015 during the world climate change conference in Paris.
Egypt has been developing closer ties with France in the last two years. The countries have signed numerous military deals, including the purchase by Egypt of 24 Rafale fighter jets and a multipurpose frigate in June.
Leaders of both countries have agreed on the importance of global cooperation to fight terrorism.