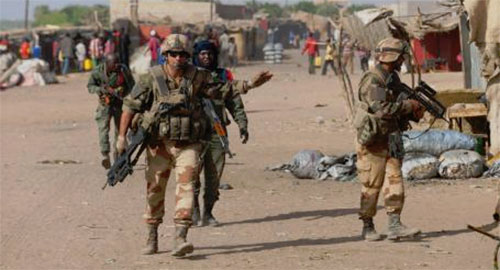 The lead vehicle of a convoy struck a land mine laid by extremists in northern Mali, killing three French soldiers in the deadliest single incident for the former colonizer's forces in three years, officials said on Wednesday.
About 60 vehicles were approaching the far northern town of Tessalit when the lead armoured vehicle was hit on Tuesday, according to the French Defence Ministry. A 19-year-old soldier died instantly while two others succumbed to their wounds in Gao, officials said.
Tuesday's explosion marked the highest toll since 2013 when the French-led operation pushed jihadis from power in the major towns of northern Mali. Those rebels have regrouped and launched a number of attacks in recent months.
"Three years later, northern Mali still isn't totally secured. The violence continues, the attacks continue. Today the jihadi movements are underground and so it's not easy to find them," said Lemine Ould M Salem, a specialist who studies jihadi movements in Africa's Sahel region.
Seventeen French soldiers have died in Mali since French forces first launched their operation in 2013.
France at one time had 4 000 troops in Mali, though it now has a base in Chad from where it deploys several thousand troops to cover multiple countries on the southern edge of the Sahara desert as part of Operation Barkhane.