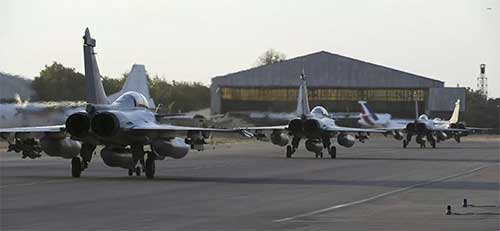 French President Francois Hollande is meeting his Egyptian counterpart Abdel Fattah el-Sisi in Cairo on Sunday to boost military ties.
The leaders are set to sign an arms deal worth more than $1bn following months of negotiations.
As part of its deal with France, Egypt will receive fighter aircraft and navy vessels. In the past two years, the Egyptian government has spent billions of dollars on French weapons and other hardware as part of efforts to bolster its military.
"Sisi wants first from France, international legitimacy," Christian Makarian, a leading French journalist, told Al Jazeera.
"Secondly, he wants military help and France is in a very good position to supply aircraft and ships," he said.
Following the 2013 ouster of former president Mohamed Morsi, the US temporarily froze Egypt's military aid forcing the government to turn to Russia, Germany and France.
In 2014 bilateral trade between Cairo and Paris was worth more than $1.4bn. The following year, that figure grew more than ten percent exceeding $1.6bn.