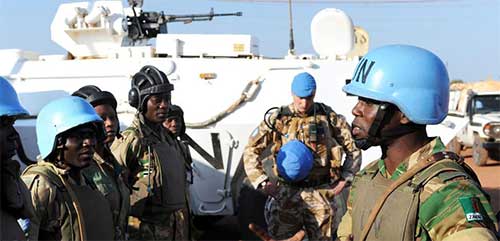 The UN on Thursday said five Chadian peacekeepers had been killed and three others wounded during an ambush in northeastern Mali, raising concern over the rising body count of its mission in the country.
The attack, which took place on Wednesday, occurred as the soldiers were escorting a convoy in Aguelhok in the Kidal region. They hit a landmine and then came under sustained gunfire, according to a statement on the UN Mali mission's social media accounts.
"Five… peacekeepers were killed and three seriously wounded during an ambush," it said.
"Following the attack, three suspects were captured and will be transferred to the relevant authorities," said interim mission chief Koen Davidse, who described the ambush as "despicable".
Known by the acronym Minusma, the Mali mission is the most dangerous active deployment for UN peacekeepers and it has been hit by sharp internal tensions since its launch in July 2013.
Wednesday's attack was the worst since a February attack on the Minusma camp in Kidal by Malian Islamist group Ansar Dine in which seven Guineans were killed.
So far, 59 peacekeepers have been killed while in active service, while another four have died in friendly fire incidents, UN figures show.
UN Secretary General Ban Ki-moon presented his condolences to the victims' families and demanded the attackers be swiftly brought to justice. He said attacking peacekeepers was a war crime.
Ban has previously alluded to "persistent operational difficulties" faced by the force, and reiterated a call for the Malian government to step up security in the north of the country.