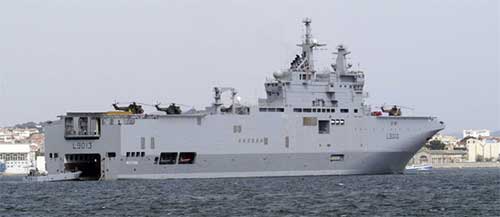 Egypt will receive its first amphibious assault helicopter carrier Mistral from France on Thursday, Youm7 reported the Egyptian Ministry of Defense.
The warship will be named after late Egyptian President Gamal Abdel Nasser. Egyptian Minister of Defense Sedki Sobhi will raise the Egyptian flag on it in French Mediterranean submarine base of
Ablain-Saint Nazaire.
A total of 360 Egyptian marines have received their trainings in the submarine base to familiarize themselves with the new warship.
In October 2014, Egypt and France have signed a deal on purchasing two Mistral-class warships, the deal was funded by Saudi Arabia. It was scheduled that the warship were produced for Russia, but the deal has been annulled due to the European sanctions imposed on Moscow due to the Ukraine crisis in 2014.