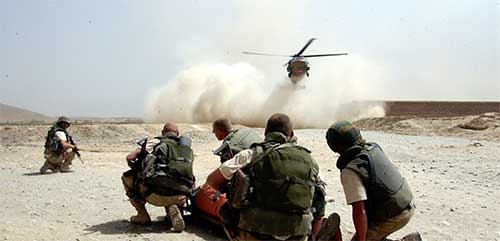 Foreign Special Forces units have been deployed on the ground in Libya's northern city of Sirte to aid Libyan government forces fighting the Daesh terrorist group, a Libyan military source said Wednesday.
"Last week, foreign special operations forces conducted an unprecedented operation [in Sirte] in coordination with government forces," the source, who spoke on condition of anonymity due to restrictions on speaking to media said.
The same source said a number of civilians that had been held by Daesh militants had been rescued during the operation.
The source did not, however, reveal the nationalities of the foreign forces operating in Sirte.
On Tuesday, U.S. newspaper The Washington Post reported that American special operations forces had — for the first time — directly supported Libyan troops against Daesh militants in Sirte.
Citing unnamed officers aligned with the Libyan government and western security officials, the newspaper said U.S. and British soldiers had been sighted in Sirte on a number of occasions.
U.S. officials told the Post that foreign forces were conducting operations from a joint operations center on the Daesh-held city's outskirts.
Last week, the Pentagon announced it had struck a number of Daesh positions in Sirte at the behest of Libya's UN-backed unity government.
On Tuesday, the Pentagon confirmed that U.S. troops were assisting Libyan government forces on the ground in an effort to oust Daesh from its main stronghold in the city.