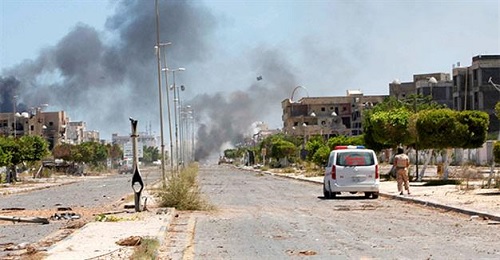 Libyan pro-government forces said they seized control Aug. 16 of another central district of Sirte as they tried to flush out the last Islamic State of Iraq and the Levant (ISIL) fighters in the coastal city.
Dozens of U.S. air strikes this month have helped to weaken ISIL's hold on Sirte, which the jihadists seized last year and established as their main base outside Syria and Iraq.
Backed by tanks and mortar fire, forces loyal to Libya's Government of National Accord (GNA) on Aug. 16 retook an area of central Sirte known as District Two, military officials said.
The jihadists struck back with two suicide car bomb attacks, but failed to hit their targets, though one of the bombers detonated his explosives close to a group of soldiers and journalists.
The advance by pro-GNA troops came a day after the loyalists cleared and demined areas of the city captured in earlier clashes.
An AFP photographer said the assault was led by tanks which opened the way for infantry.
"District Two has been liberated," Reda Issa, a spokesman for the pro-government forces said.
A commander of the pro-GNA forces said loyalists had also taken up positions south of the recaptured neighborhood to cut off escape routes.
ISIL seized control of Sirte, the home town of ex-dictator Muammar Gadhafi, in June 2015, taking advantage of the chaos that followed the longtime Libyan leader's ouster and killing in 2011.
Loyalist forces have been pushing to clear Sirte of the jihadists since expelling them from key positions including their headquarters at the Ouagadougou conference center last week.