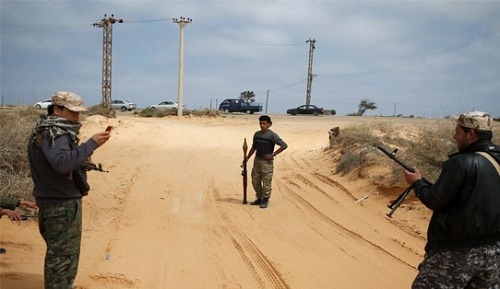 Libyan tribal leaders have signed a reconciliation deal in Tunisia with a view to halting fighting in eastern Libya and the city of Benghazi.
Speaking to reporters early Saturday, Mohamed al-Moghrabi, a representative of tribes in the northwestern city of Misurata, underlined keenness on maintaining Libya's territorial integrity.
"We reject all forms of military coups," he said.
The deal was signed between tribal leaders of Misurata and al-Obeidat tribe, the largest tribe in eastern Libya.
Al-Moghrabi said the tribes have agreed on fighting "all forms of terrorism, dissolving armed militias and protecting oil facilities".
The tribal leader went on to call on the UN-backed unity government to take measures to halt bloodshed in Benghazi and Derna cities and support political reconciliation in the war-torn country.
Forces aligned with the Tobruk-based parliament control most territory in Benghazi.
Libya has remained in a state of turmoil since 2011, when a bloody uprising ended with the ouster and death of longtime strongman Muammar Gaddafi.
Since then, the country's stark political divisions have yielded two rival seats of government, one in Tobruk and another in Tripoli, each of which boasts its own military capacity and legislative assembly.
Late last year, Libya's rival governments signed a UN-sponsored agreement that established a national unity government.