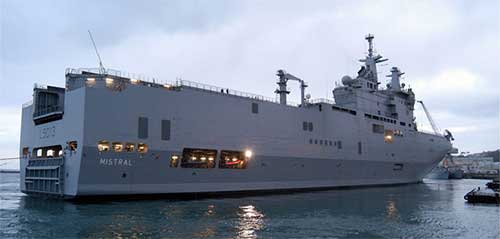 Egypt on Friday received the second Mistral-class Landing Helicopter Doc (LHD) warship from France, official news agency MENA reported.
Egyptian Navy Commander Osama Rabie and Chief of the French Navy Admiral Christophe Prazuck attended a ceremony marking France's handover of the warship to Egypt in the western French port of Saint Nazaire, the report said.
"Egypt seeks to protect its coasts, national security, economic resources and water," Rabie said after raising the Egyptian flag on the vessel.
He hailed as special the mutual ties between Cairo and Paris in the fields of advancing and developing Egypt's naval forces to overcome threats and challenges in the region, namely terrorism, illegal immigration, human trafficking, and weapons and drugs smuggling.
The helicopter carrier, the second of its kind in the Egyptian Navy, is named after Egypt's late leader Anwar al-Sadat.
The first vessel, which arrived at the coast of Egypt's seaside province of Alexandria in June, was named after Sadat's predecessor Gamal Abdel-Nasser.
The two vessels were sold to Egypt after France canceled their sale to Russia over the Ukrainian crisis.
Each of the sophisticated LHD vessels is capable of carrying 16 helicopters, four amphibious land craft, 70 armored vehicles and 450 soldiers.
After the ceremony, the warship will set sail toward Egypt to go into service as part of the Egyptian naval units. It is expected to arrive in Alexandria by the end of September.