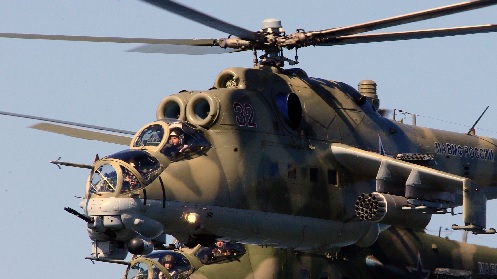 Russia had said it would export helicopters, Mil Mi-8/17 and Mi-24/35 helicopters to Nigeria, Angola, Mali and Sudan between this year and 2017.
The head of the delegation for Russia's arms exporter, Rosoboronexport, Mr Yury Demchenko yesterday, said that Russia wished to maintain exporting to the four countries.
"In 2016-2017, we plan to continue exporting these helicopters to Nigeria Angola, Mali and Sudan Our position in the African helicopter market is solid, so we are optimistic about the prospects of cultivating it further," the delegation chief added.
"Besides, many African countries prefer to purchase inexpensive equipment, and in particular used equipment, the Russian delegation's head noted. "For example, we export those Mil Mi-8 and Mi-24 helicopters to this region that have gone through major renovation," he elaborated.
Demchenko pointed out that helicopters remained one of the most sought-after types of military hardware in Africa. In 2014-2016, Russian-made helicopters were exported to Angola, Sudan, Uganda and Rwanda.