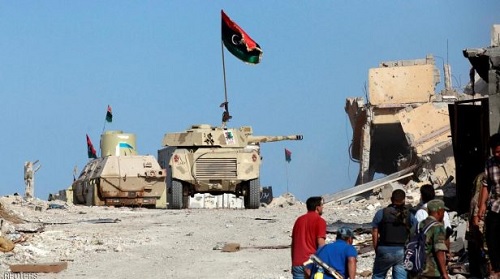 The US has expressed readiness to resume its air attacks on IS in Libya if requested by the UN-brokered Government of National Accord.
"We can resume airstrikes on IS in Libya upon the government's call, although the militants are now in poor control of Libyan territories" The Pentagon said on Monday.
"If additional air strikes are needed, we will be prepared to deliver those air strikes," Pentagon spokesman Peter Cook said at a news conference.
The Misurata-led Al-Bunyan Al-Marsous forces are now in control of over 90% of Sirte after they cornered IS militants in just some blocks of the seaside Jizah neighbourhood.
On Sunday, Mohammed Abed Al-Karami, the father of the IS emir in Libya's Sirte, Hassan Al-Karami, surrendered to the Misurata-led forces along with his family, sources from Sirte reported.
The father of the self-proclaimed emir confirmed to the Al-Bunyan Al-Marsous that his son, Hassan Al-Karami was killed last August.