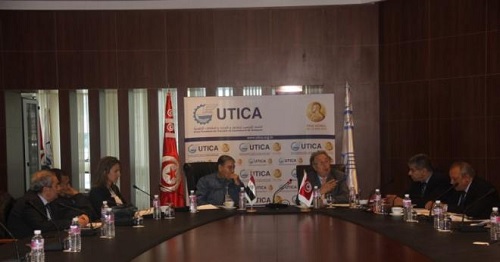 Egyptian-Tunisian partnership meetings will take place in Cairo in the first quarter of 2017, according to the recommendations adopted by the Tunisian-Egyptian Joint Chamber and published on Thursday in a press release by the Tunisian Confederation of Industry, Trade and Handicrafts (UTICA).
The Chamber, which met on Wednesday ahead of Friday's meeting of the Tunisian-Egyptian Joint Ministerial Monitoring Committee, also recommended increasing joint investment in SMEs, implementing
the recommendations adopted during the joint chamber's meeting in September 2015, especially those related to the reactivation of sectoral bilateral councils and applying the Agadir Agreement, mainly clauses on origin indications and free zones.
Businessmen from both countries called on the relevant authorities to facilitate visa-granting for economic operators and banking authorities to simplify bank transactions between both countries' companies.
The two sides agreed to establish a monitoring committee to help Tunisian and Egyptian companies strengthen their bilateral economic relations and create a data bank to provide necessary information on laws related to trade and industry in Tunisia and Egypt and on the different investment opportunities available.