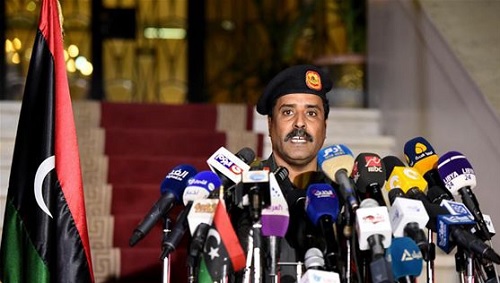 Spokesman for the Libyan National Army said on Wednesday that his forces have controlled 70 percent of the country's territories.
"After retrieving the majority of homeland, we pledge to fight hard until the entire soil of Libya is freed from the grip of terrorist groups," the army spokesman Ahmed al-Mesmary told reporters at Libya's Embassy in Cairo.
He stressed that the army moved to help the Libyans who suffered much from the crimes of terrorists across the country.
Al-Mesmary said that the army, which is led by Maj. Gen. Khalifa Haftar, is now fighting against four terror groups as the Muslim Brotherhood, the Islamic State, al-Qaeda and a militia of mercenaries.
"These terror organizations killed hundreds of Libyans across the country and mainly in Benghazi where some terror groups are still acting. We had to move to stop the massacres and to keep the unity of the Libyan territories," he added.
He accused the terror groups of using the foreign laborers and the residents of Benghazi, the birthplace of the 2011 uprising that toppled Muammar Gaddafi, as human shields.
The spokesman also called for lifting a UN arms embargo that was imposed on Libya in 2011 to prevent sale or supply of arms and related material of all types to the country.
"Despite the arms ban and poor capabilities, our forces managed to prevent terrorists from reaching neighboring countries and even Europe," he pointed out.
He also said that his forces have taken over all major oil fields and ports after launching an attack on the oil crescent, a region containing Libya's largest oil ports that had been closed by terrorists for years.
"The oil companies have resumed working and produce 600,000 barrels of oil a day. We export the production from all ports," he confirmed.
The oil sector, Libya's main source of income, has been suffering drastically since 2011, due to armed attacks and political division.