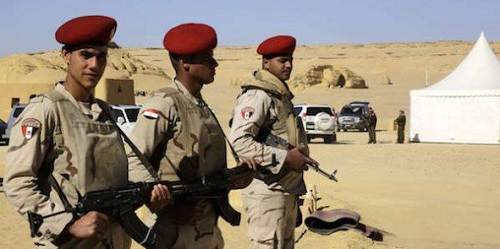 At least 23 militants were killed during security force raids in three cities of the restive northeastern North Sinai province, Egyptian Defense Ministry announced in a statement on Wednesday.
According to the statement, the operations killed 13 militants in the city of Arish and 10 in Rafah and Sheikh Zuweid.
Security forces also destroyed a warehouse of explosives, ruined 11 roadside explosive devices and "foiled an attempt to attack a security checkpoint in Arish with a car bomb by blowing up the car and killing its driver," said the statement.
Over the past few days, military raids in the northern part of the peninsula have left some 50 militants dead, with about 100 explosive devices ruined.
Egypt has seen a wave of terrorist activities since July 2013, when former Islamist President Mohamed Morsi was ousted following mass protests against his one-year rule and his now-outlawed Muslim Brotherhood group.
Anti-government attacks have killed hundreds of police and military personnel over the past few years, with a Sinai-based group loyal to the so-called Islamic State claiming responsibility for most of them.
Egyptian security forces have so far killed over 1,200 militants in Sinai as part of the country's "war against terrorism" declared by then-military chief and current President Abdel-Fattah al-Sisi following Morsi's ouster.