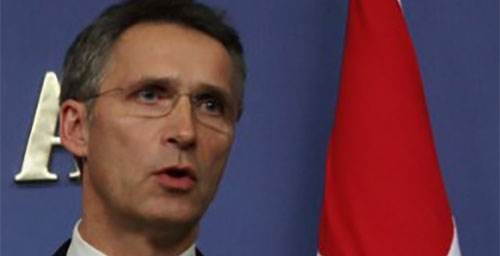 NATO Secretary General Jens Stoltenberg on Wednesday discussed the security situation in Libya with Libyan Prime Minister Fayez Al-Sarraj, saying NATO stands ready to support Libya.
Speaking at the joint press conference, Stoltenberg said he was encouraged by the progress being made in the fight against the Islamic State (IS) in Libya, adding that the radical extremist group "has been driven out of its former stronghold of Sirte."
He stressed a political solution to the crisis, based on the implementation of the Libyan political agreement, is needed to address Libya's serious political and security challenges.
Stoltenberg also underlined NATO's support to the government of national accord. "During our meeting today, we discussed how we can take our cooperation forward. NATO stands ready to assist Libya in building effective security and defense institutions," he said.
"If requested, we could also support the efforts of the European Union to strengthen the Libyan Coast Guard and Navy," Stoltenberg added.