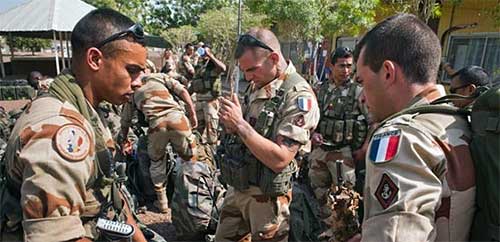 France is to send a contingent of counterterror forces to help the army in Niger after militants ambushed a military patrol killing 16, the defence ministry said.
The decision, announced late on Saturday, was taken following a request from President Mahamadou Issoufou after Wednesday's attack near the border with Mali.
The deadly ambush, which took place in an area some 200km north of Niamey, the capital, also wounded another 18 Niger troops, with the army blaming "terrorist elements".
Following talks with Issoufou, French Defence Minister Jean-Yves Le Drian said France was preparing to send a detachment of troops "to help our Niger colleagues."
A French military source said it would include 50 to 80 troops, most of them special forces, who would be operational in the area "within three days." They would be equipped with aerial support capacity to provide backup for Niger forces on the ground.
The troops are part of Operation Barkhane, a French counterterror operation whose mission is to target jihadist groups operating in the Sahel region south of the Sahara Desert.