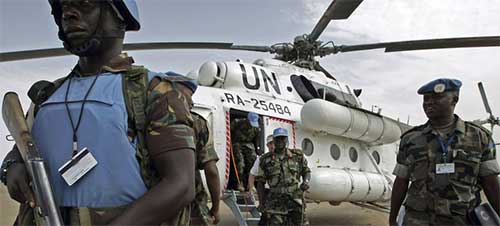 A United Nations Multidimensional Integrated Stabilisation Mission in the Central African Republic (MINUSCA) air operation dispersed heavily armed militiamen in the remote Central African Republic town of Bambari town on Sunday.
According to a statement on Monday by MINUSCA, about 40 fighters from the Popular Front for the Renaissance of Central African Republic (FPRC) armed with AK-47s and rocket propelled grenades had gathered in the town, but UN forces intervened to prevent them carrying out an attack.
MINUSCA spokesman Vladimir Monteiro said that the action was in keeping with the peacekeeping forces' mandate to protect civilians and its aim to "prevent a war" between the militia and the rival Union for Peace in Central African Republic (UPC).
"The toll of this air operation is not yet known.
"MINUSCA warns the coalition FPRC against any attempt to bring war to Bambari," he said.
Monteiro told Reuters in an email that the operation had "engaged one helicopter," but gave no further details.