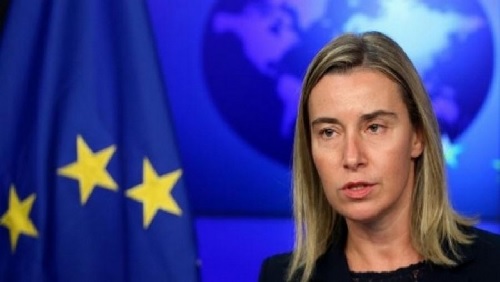 High Representative of the European Union (EU) for Foreign Affairs and Security Policy, Vice-President of the European Commission, Federica Mogherini Sunday in Algiers reaffirmed that there was no military solution to the crisis in Syria, underlining convergence of views between Algeria and the EU.
"There is no military solution to the crisis in Syria, it is time to give a chance to the diplomatic efforts as part of Geneva peace negotiations, under the auspices of the United Nations with a view to reaching a political solution and bringing peace to Syria," Mogherini told a press conference co-hosted with Minister of State, Minister of Foreign Affairs and International Cooperation Ramtane Lamamra.
"We (the EU) and Algeria share the same assessment and we have adopted a common position about the Syrian crisis, and in many cases the same steps. We have also engaged the same diplomatic work, which is a good demonstration of our ability to build a long term solid partnership, respecting our specificities in a mutual interest," Mogherini said, reaffirming "Brussels' firm response against the use of chemical weapons which represents a war crime and a crime against humanity."
Mogherini that she has long discussion with Algerian officials on the de-radicalization and the mobility of people.
"Me and the Foreign Minister has also debated the situation in Libya and the work we (Algeria/EU) are accomplishing to reconcile the views of the Libyans and reaching a solution as part of the political agreement," she added while expressing the EU support to the Algerian efforts in Libyan crisis, the Sahel situation and in the Malian file.