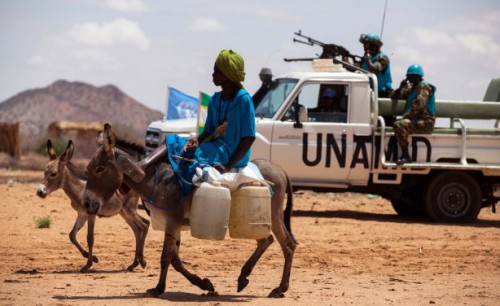 An advance party of peacekeepers with a bolstered mandate to use force have arrived in South Sudan, the United Nations said on Monday, the first blue helmets with a greater authority to protect civilians in the troubled East African nation.
At least 13 peacekeepers from a regional protection force mandated by the Security Council have arrived in the capital of Juba, Shantal Persaud, a spokesperson for the UN mission in South Sudan told The Associated Press.
The troops will reinforce existing engineering operations and help to prepare camp sites for the 4 000 peacekeepers expected to arrive later this year, Persaud said.
"They are not troops but rather 'enablers,'" Persaud said by email, adding that the rest of the troop contingent is expected to arrive in June or July.
South Sudan's government had earlier blocked the force from entering the country, claiming they are not needed and would violate South Sudan's sovereignty.
The 4 000 strong regional protection force adds to the more than 12 000 peacekeepers who are already in South Sudan and have struggled to protect civilians.
The extra peacekeepers were mandated by the Security Council after fighting in Juba in July last year killed hundreds of people and escalated the civil war across the country.