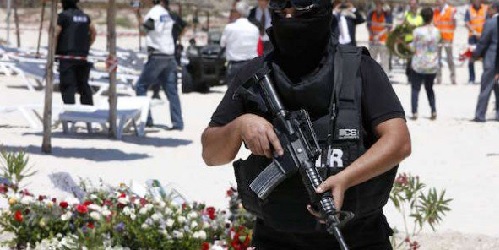 Tunisian police killed one hardliner militant and another died when he detonated his suicide explosive belt during an exchange of gunfire in the central city of Sidi Bouzid, a government official said on Sunday.
Tunisia's armed forces have been cracking down on militants allied to Daesh and Al Qaeda's North Africa branch, especially since the country suffered four major attacks in the last two years, including two on foreign tourists.
The clash came when police raided a house in Sidi Bouzid where the group had been under surveillance.
The group had been in the coastal city of Sousse, where an Daesh-allied gunman killed more than 30 tourists in a 2015 attack on a beach resort.
"The police engaged in gun fire with these terrorists in Sidi Bouzid. They killed one and another blew up his explosive belt," the official said.
Other suspects were still being pursued.
More than 3,000 Tunisians have gone to fight for Daesh and other militant groups in Syria, Iraq and neighbouring Libya.
The government expects some of them to return to Tunisia as militants lose ground in those countries.