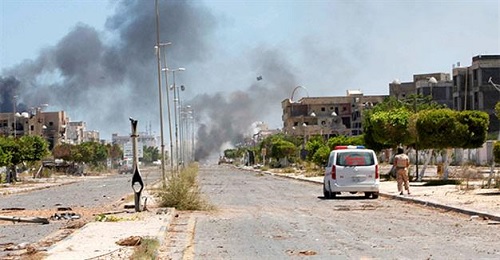 Masked gunmen attacked a bus carrying Coptic Christians on a visit to a monastery south of the Egyptian capital on Friday, killing at least 28 people including children, officials said.
The assailants in three pick-up trucks attacked the bus as it carried visitors to the Saint Samuel monastery in Minya province, more than 200km from Cairo, before fleeing, the interior ministry said.
It was the latest attack on Copts after Islamic State (ISIS) group jihadists bombed three churches in December and April, killing dozens of Christians.
Pictures of the bus aired by state television showed the vehicle riddled with machinegun fire and its windows shot out.
Cellphone footage and pictures circulated on Egyptian media sites showed several victims who had apparently been shot dead scattered in the desert sand around the bus.
State television quoted a health ministry official as saying a "large number" of the victims were children.
"They used automatic weapons," Minya governor Essam el-Bedawi told state television of the attackers.
Bedawi said police were fanning out along the road where the attack took place and had set up checkpoints.
State television reported that the attack killed 28 people, citing the health minister.
The latest attack came after jihadists had threatened more strikes against the Copts, who make up about 10% of Egypt's 90-million population.
In a statement on its spokesperson's Facebook page, the Coptic Church called for "measures to be taken to prevent the dangers of those incidents that tarnish Egypt's image".