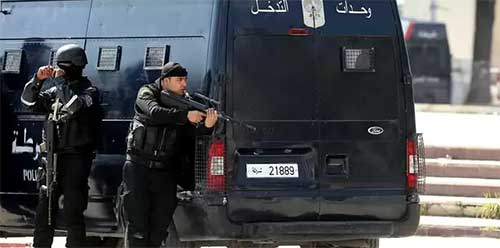 Tunisian security forces have killed a leader of the Daesh group who was plotting attacks during the Muslim fasting month of Ramadan, authorities said on Monday.
The interior ministry did not identify the suspect, but said he was a leading member of Daesh and "dangerous" and was killed in an operation on Sunday night by the National Guard near the Algerian border.
Eleven arrest warrants had been issued for the suspect in connection with "terrorist operations", the ministry said.
Judiciary spokesman Sofiene Sliti told Shems FM radio the suspect was a Tunisian known as Houssem Tlithi, born in 1997.
The interior ministry said the suspect had been on the run since 2014 and hiding in the Mount Salloum region, a extremists stronghold.
Mount Salloum is near Mount Chambi where 15 soldiers were killed in 2014 in the deadliest attack against the armed forces.
During Sunday night's operation, another extremist was wounded and weapons seized, including a Kalashnikov assault rifle and material used to make explosive belts.