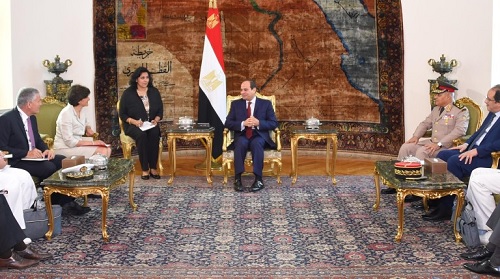 France's minister of defence, Sylvie Goulard, expressed praise for Al-Azhar on Monday; for his role in fighting extremist ideology, as well as Egypt's international influence in combating terrorism. According to a press statement, the conversation occurred during a meeting with Egyptian President Abdel Fattah Al-Sisi.
President Abdel Fattah Al-Sisi and Egyptian Defence Minister Sedky Sobhy received Goulard to discuss bilateral relations and efforts to fight terrorism.
In a statement issued by the Egyptian presidency spokesperson, Alaa Youssef, President Al-Sisi stated in the meeting that terrorism, "does not stop at the borders of the Middle East, but rather expands all around the world", adding that the international community must take firm action towards countries who support and fund terrorist groups.
Goulard commended the recent military cooperation between the two countries, and agreed with Al-Sisi that progress of such cooperation should be enhanced.
Over the past years French military cooperation with Egypt has increased significantly, after Egypt signed a €5.2bn agreement to buy 24 French Rafale fighter jets in 2015, and Egypt received a French Mistral helicopter carrier in 2016.