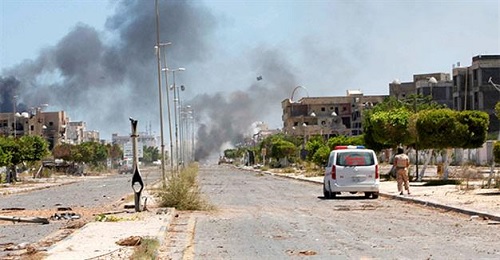 US-backed fighters battled the Daesh group on Thursday as they tried to push further into the extremists' Syrian bastion Raqa, two days after finally entering the northern city.
The Syrian Democratic Forces alliance of Kurdish and Arab fighters began the battle for the city earlier this week after seven months of fighting to surround the extremist stronghold.
On Wednesday, an AFP journalist entered the city with SDF fighters and witnessed heavy clashes in the Al-Meshleb neighbourhood, with Daesh firing multiple mortar rounds towards the advancing forces.
He said part of the neighbourhood was under SDF control but US-led coalition planes were still carrying out strikes against Daesh fighters elsewhere in the district, one of the largest in Raqa.
SDF fighters were armed mostly with light weapons including Kalashnikovs, and were also returning mortar fire on Daesh positions. The SDF did not allow journalists to return to the city on Thursday where fighting was continuing.
"Our troops are advancing in Al-Meshleb and control parts of it," SDF spokesman Talal Sello told AFP.
"The international coalition forces are working with us on the ground in the battle for Raqa in a highly effective manner," he added.
The US-led coalition said it had carried out 22 strikes near Raqa on Wednesday, hitting Daesh fighting positions and vehicles as well as a weapons cache and a training camp.
The Britain-based Syrian Observatory for Human Rights monitor said the SDF now controlled around two-thirds of Al-Meshleb and was some 400 metres (yards) from the neighbouring Al-Senaa district.
"Daesh has snipers monitoring Al-Meshleb neighbourhood and has laid mines extensively throughout it," the Observatory said.