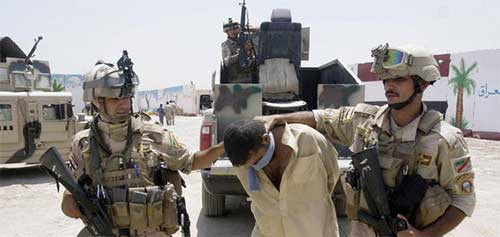 Iraqi and Syrian military top brass discussed in Baghdad on Tuesday ways to establish a joint coordination center and enhance cooperation in the field of border security.
The meeting between Syrian military delegation, including chief of the operations dept., and Chief of Staff of the Iraqi Army Lt.-Gen. Othman Al-Ghanemi led to a consensus that the two countries constitute a single combat field against the so-called Islamic State (IS) group, an Iraqi military statement said.
"Accordingly, the two neighbors need to scale up information sharing and military coordination, particularly in the border areas, to push the IS to the corner," the statement quoted Al-Ghanemi as saying.
The two sides agreed to work out a timetable for tightening the control of their regular troops on the border areas and coordinate the Iraqi airstrikes on the IS bases in Nineveh and Anbar govenorates, it added.