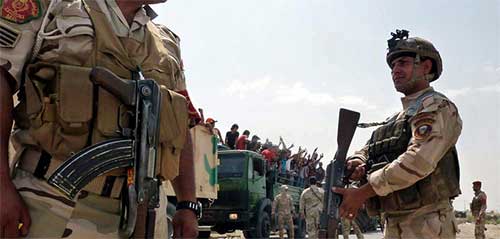 The Islamic State (IS) militants bombed historical al-Nuri mosque on Wednesday during fierce battles against the Iraqi army which has retaken most of Mosul, the country's second largest city, after eight months of offensives.
Iraqi Prime Minister Hadier Abadi said "blowing up the al-Nuri mosque and the al-Hadba minaret is an official declaration of defeat by the Islamic State."
Mosul has been under IS control since June 2014, when government forces abandoned the city. IS militants have thus taken control of large swaths of territories in the country, with the city as their de facto capital in Iraq.
The Iraqi army launched operations to retake the city in October 2016, when commanders said they expected to announce victory by the end of the year. However, the offensives slowed down due to strong resistance by the IS militants.
Iraqi forces pushed closer to Mosul's historical al-Nuri mosque on Wednesday amid fierce clashes in IS-controlled areas which only account for less than 10 percent of the city.
"The commandos of the Counter-Terrorism Service (CTS) forces began progress at dawn toward al-Nuri mosque and the surrounding areas," a source from the CTS told Xinhua on condition of anonymity.
"After hours of fierce house-to-house battles, the troops seized some alleys and took new positions in the old city located some 100 meters away from al-Nuri mosque," the source said.
The progress was slowed by the stiff resistance of IS militants and a large number of roadside bombs and booby-trapped buildings, in addition to IS snipers who took positions in the buildings of heavily-populated neighborhoods.
The militants on Wednesday bombed al-Nuri mosque and its famous leaning minaret, which has great symbolic value for the group.
IS leader Abu Bakr al-Baghdadi proclaimed himself "caliph," or ruler of all Muslims and the cross-border "caliphate" in Iraq and Syria from the mosque's pulpit in his sole public appearance in July 2014.
According to UN reports, some 100,000 civilians are still trapped in the IS-held areas as the group is using the civilians as human shields.