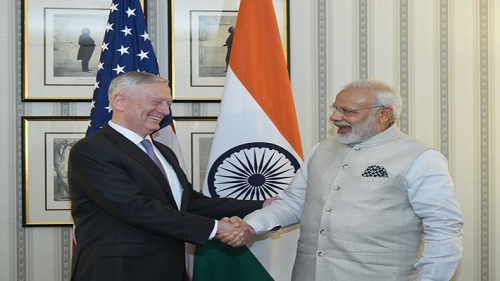 Indian Prime Minister Narendra Modi on Monday held talks with US Defence Secretary James Mattis and Secretary of State Rex Tillerson, ahead of his meeting with President Donald Trump.
Indian National Security Advisor Ajit Doval was also present at the meetings.
"First engagement of the day. Jim Mattis, Secretary of Defence," MEA spokesperson Gopal Baglay tweeted.
"Preparing the ground for the meeting between the leaders. Mr. Rex W. Tillerson, Secretary of State calls on PM," said another tweet.
Defence and counter terrorism issues are likely to be among the major topics to be discussed during the Modi-Trump meeting.
The Prime Minister is to meet President Trump and the First Lady at the White house. The leaders will address the media from the Rose Garden.
On Sunday, in an op-ed piece in the Wall Street Journal, Modi said that defence is a mutually beneficial sphere of the Indo-US partnership.
"We are already working together to address the existing and emerging strategic and security challenges that affect both our nations – in Afghanistan, West Asia, the large maritime space of the Indo-Pacific, the new and unanticipated threats in cyberspace," he said.