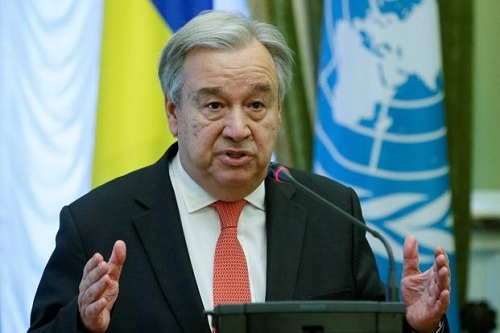 UN chief Antonio Guterres has reiterated the need for India and Pakistan to find a peaceful solution to the Kashmir issue through engagement and dialogue, his spokesperson said.
Guterres' spokesman Stephane Dujarric's remarks came when he was asked if the secretary-general is paying attention to the situation in the region or "we are just waiting for some sort of big tragedy to occur for the secretary-general to take attention."
"…we reiterate the need for the parties to find a peaceful solution through engagement and dialogue," Dujarric said at a daily press briefing here yesterday. He said that "in terms of paying attention, I think the secretary-general answered in his own words that question during the press conference."
Dujarric was referring to Guterres' first press conference at the world body's headquarters in June when he was asked whether he is engaged in bringing about dialogue between India and Pakistan to resolve the Kashmir dispute.
"Why do you think I met three times the prime minister of Pakistan and two times the Prime Minister of India," Guterres had said. Prime Minister Narendra Modi and Guterres had met in St Petersburg earlier in June on the sidelines of the St Petersburg International Economic Forum.