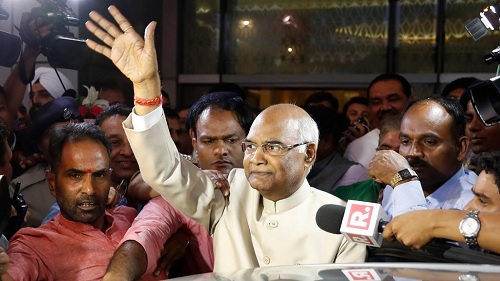 Ram Nath Kovind, the son of a modest farmer, secured two-thirds of the votes from nearly 5,000 legislators.
India's legislators have elected Ram Nath Kovind, a member of Hinduism's most oppressed caste, as the country's 14th president—a triumph for the Bharatiya Janata Party, which nominated him.
A total of 4,895 legislators—4,119 members of state assemblies and 776 members of parliament—cast their votes in the presidential election on Monday. The votes were counted on Thursday, and Mr Kovind won 65.65 per cent of the votes.
His running-mate, M. Venkaiah Naidu, a long-time BJP member and until Tuesday prime minister Narendra Modi's minister for information and broadcasting, will be the new vice president.
Mr Kovind, 71, rose from a modest background as a farmer's son in Kanpur, Uttar Pradesh, His family belonged to the Dalit group of sub-castes. He rose to become a lawyer and was recently ended a two-year stint as governor of Bihar. On Tuesday he will be sworn in as president.
Crucially for the BJP, Mr Kovind also has close ties to the Rashtriya Swayamsevak Sangh (RSS), the Hindu right-wing organisation in which Mr Modi was once a full-time worker, and which is the ideological bulwark of the BJP's politics.
Mr Kovind becomes the second Dalit to hold the president's office, after K. R. Narayanan, who served as president from 1997 to 2002.
He was running against Meira Kumar, the former speaker of the Lok Sabha, the lower house of the Indian parliament. Ms Kumar—also a Dalit—was nominated by a group of 17 opposition parties, led by the Congress.
India's presidential elections, held once every five years, are ordinarily smooth and apolitical, with rival parties agreeing on a consensus candidate. This year, however, the deep divide between the BJP and the Congress, over the BJP's allegiance to Hindu nationalism, imbued the contest with unusual friction.