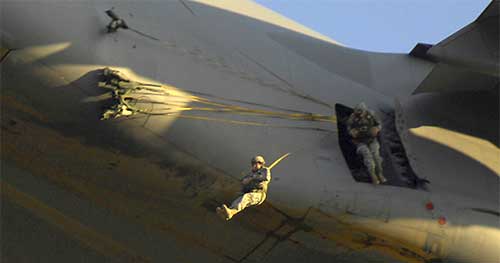 The U.S. Army announced Thursday that 2,100 soldiers from the 10th Mountain Division (Light Infantry) will deploy to Iraq this fall.
The soldiers from 3rd Infantry Brigade Combat Team, based in at Fort Polk in Louisiana will replace the 2nd Brigade Combat Team, 82nd Airborne Division, in a regular rotation of forces in support of Operation Inherent Resolve, according to an Army press release.
"During the last several months, the Patriots have worked hard and completed multiple training events to include a Joint Readiness Training Center rotation in preparation for this important mission," said Maj. Gen. Walter E. Piatt, commander of the 10th Mountain Division. "I am extremely confident and proud of the entire 3rd Brigade Team."
Currently, the U.S. has about 500 troops, mostly Special Forces, in Syria and more than 5,000 in Iraq in train, assist and advisory roles as part of the military operation against the Islamic State of Iraq and Syria, or ISIS.